Chinese diary — chapter 1: The miracle of Chinese mobile payments
Home Blends & Trends
11 May 2017
Alina Mihaylova, 26, is a data analyst with fifty-five, the data company. A Ukranian graduate from French business school HEC, she settled in Shanghai, where she helps fifty-five clients understand and activate their customer data.
It has been two months since I moved to China, but its digital advancement hasn't stopped impressing me ever since. One of the major things that has come into my life and without which I cannot imagine living anymore is mobile payment. There are two major mobile payment apps here, Alipay and WeChat Pay. Both of them have similar payment features, though WeChat has more of a social component to it. That's why I will focus on this 'super app' and the data opportunities it holds.
So far, I've been overwhelmed by how efficient life can be with WeChat. Dubbed a Swiss army knife, this app has become indispensable in today's China. It is present in every aspect of people's daily life, from paying utility bills, meals, cinema tickets to hailing a taxi, renting a bike, following news, and chatting with friends.
However, for me, the most striking thing about WeChat and other mobile payment systems is their omnipresence. Most merchants have adopted it, from tiny local street food vendors to fancy stores and government institutions. And it seems like the entire payment industry has bolstered this shift to mobile, equipping payment terminals with QR code scanners to facilitate payments. Mobile payments are so ubiquitous here that I realised I can perfectly survive if I forget my physical wallet at home one day because most days I just don't take it out my bag! This made me wonder how WeChat have managed to make more than 800 million people adopt this innovative payment method (adoption rate is 93% in 1 & 2 tier cities) and why its Western counterparts struggle to follow?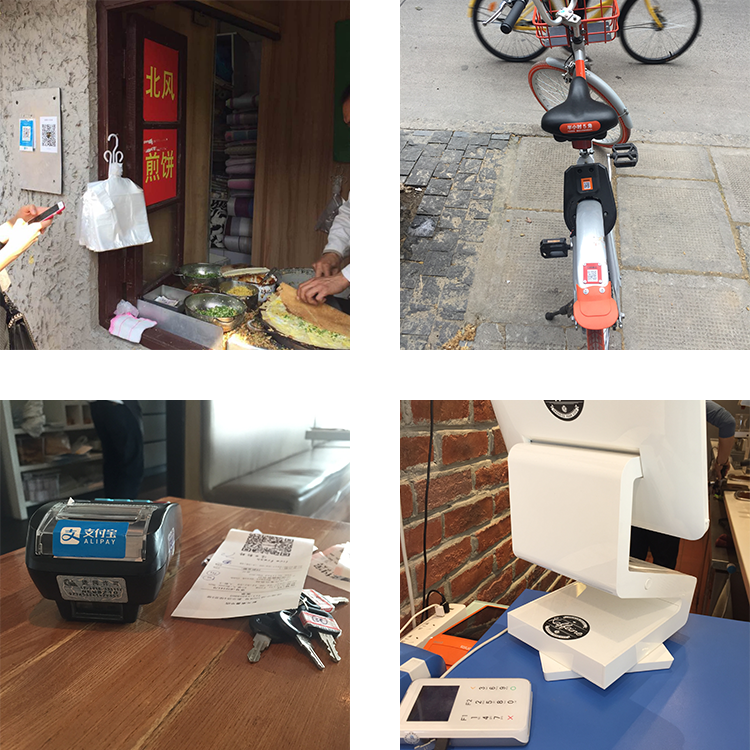 1. Local street food vendor accepts payments through QR codes that are displayed just outside his shop.
2. A bike that can be rented with a simple QR scan
3. Payment terminal equipped with a QR scanner
4. An iPad in a coffee shop that scans QR codes to receive payments and serves as sales management tool at the same time.
The story has it that when WeChat introduced its Wallet feature in 2013, they immediately understood that in order to compete with Alipay they had to take the market by storm. And what could be better than leveraging deeply rooted traditions of Chinese people to do so? So, WeChat launched a Red Packet feature just in time for the Chinese New Year, that allowed people to exchange traditional money gifts in a more convenient way than usual, via their phones rather than by using physical envelopes. The thing is that in China when you receive money gifts from your friends and family, you are bound to return the gift, otherwise, it would be considered rude. To further accelerate the adoption of the wallet, WeChat also sent out money to its users, in the form of a lucky draw to win money and helped to build up even more excitement about this new feature. This created a massive bandwagon effect across the country, encouraging people to connect their bank accounts to WeChat to be able to receive and send money.
Another smart move that helped to popularise WeChat Pay is its partnership with Didi, a Chinese equivalent of Uber, whose investors include both Tencent and Alibaba. For a year WeChat offered coupons on taxi rides to be enjoyed only when paying for your taxi via WeChat. Of course, who wouldn't want to benefit from a cut on their taxi ride, when it could cover up to 70% of your fare sometimes? Note that taxi here is cheap, the basic ride could cost 14-20 RMB, whereas WeChat offered 10RMB value coupons. This campaign significantly increased the number of WeChat Pay users and encouraged more consumers to link their bank card with WeChat. Today, WeChat alone processes transactions worth $1.2 trillion. Together with Alipay and WeChat Pay, the mobile payment market in China is skyrocketing, growing at a rate of two to three digits year by year (54 percent last year, and 390% just three years ago).
What are the primary payment methods you use for offline purchases? *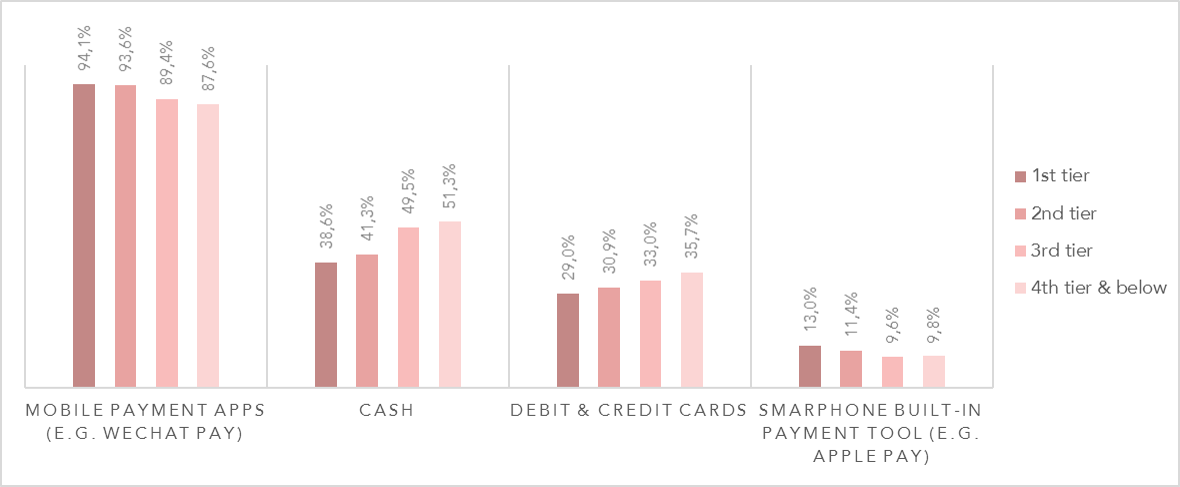 As mentioned earlier, WeChat is also a major social media platform with 768 million daily users, which is more than the entire population of the European Union. Similar to Facebook, they provide business accounts named Official Accounts, that users can follow and interact with. Now, imagine how much data is in the hands of one company, combining transactional, socio-demographic, interests and geolocation data within one platform.
This opens up tremendous opportunities for marketers and advertisers, who are able to monitor entire customer journeys within one platform, from awareness to purchase. That's like a dream come true for advertisers who want to get a clear idea of their return on advertising expenditure. Imagine a platform that serves as advertising space, CRM, and payment tools at the same time. And this applies to any type of business, no matter which products you sell, starting from groceries to fine jewelry, for which Chinese consumers are ready to pay several thousand euros without leaving WeChat.
However, Tencent is just beginning to embrace the data-related opportunities that lie in its hands. For now, Wechat native analytics capabilities are still very basic, but it is clear that the company will do its best to monetise consumers data to attract even more advertisers. It comes up with new solutions that might be handy to advertisers, like allowing advertisers to target Chinese tourists when they are abroad, giving Western advertisers the tool to reach Chinese customers on the platform that is relevant to them.
At 55 China we are very excited about the opportunities that WeChat brings to our local and international clients. One of our missions here in China is to embrace the data that is available out there and try to leverage it in the best possible way, giving our clients a clear idea of the return on advertising and media spending, and enabling them to boost their sales. Stay tuned for more news on Middle Kingdom's tech and digital developments, and the opportunities it offers!
* Data source: Penguin Intelligence Survey Platform. This is a multiple choice question.