#TechConf – Facebook F8 2018: what you should remember
Customer Experience
14 May 2018
During its 2018 F8 developer conference on May 1st and 2nd, Facebook announced some exciting new products and features, while also mentioning the recent Cambridge Analytica scandal which tarnished its reputation. Mark Zuckerberg had to put several emergency measures in place following his hearing before the US Congress last month, such as blocking submissions of new third-party apps while they adjust their algorithm (meaning while Facebook checks which apps collect user data) as well as making the "Set your privacy settings" feature more prominent.
1. Greater focus on privacy
Facebook has claimed to value transparency, fighting spam and fake news, and closing fake accounts since its creation.
In today's context, it would seem that Facebook has decided to grab the bull by the horns when it comes to collecting personal data. The network will let its users clear their histories, including both Facebook and Off-Facebook activity. This feature will be rolled out at the end of this year.
What is Off-Facebook?
Off-Facebook refers to all personal data available to third-party advertisers when users interact with their apps. For example, if I interact with a brand's chatbot, the bot can access my name, Facebook profile, photos, location, etc. The same is true if I am directed to a third-party site after clicking on a Facebook ad. However, with Clear History I can clear any history from third-parties that I've already interacted with.
2. Facebook as new dating site
Seemingly unbothered by competing and better-established online dating sites or apps such as Tinder, Match.com, OkCupid, or Grindr, Facebook is making its debut on the dating market! Users can create a dating profile, invisible to their other Facebook friends. Handy if you want to keep your dating life private! This announcement was enough to cause the Match group (Tinder, Match, OkCupid) stock to drop 19%!
Marketplace is another way for Facebook users to connect. They can buy and sell goods of all kinds: clothes, appliances, cars, and even houses. With this new feature, which is already available in over 70 countries and regularly used by 800 million people, Facebook is encroaching on the territory of sites like craigslist and Gumtree.
3. Expanding messaging apps
WhatsApp is the world's most popular encrypted chat app. WeChat is a close second, boasting some 900 million users. Today, WhatsApp includes:
Over a billion users
Over 65 billion messages sent every day
Native photo and video editing capabilities
Group phone calls (a serious competitor of public videoconferencing software like Skype)
With Facebook's WhatApp Business, professionals can enter into direct contact with clients to get information about products and services, or for customer service. Currently, 3 million business profiles are already using this feature to communicate with their clients!
Messenger, too, is continuing to grow, and has gotten a new lease on life with:
8 billion messages exchanged each month between brands and clients (4 times more than in 2017)
300,000 active chatbots compared to 200,000 last year
A new simplified interface, in the hopes of avoiding a large-scale migration to the Lite version (a minimalist version of Messenger; cleaner but with fewer features).
4. Augmented reality: a real game changer
To make augmented reality ( AR) and virtual reality ( VR) more widely-adopted, Facebook is launching its Oculus Go. This independent VR headset retails for just $199, far lower than any competing product, which means that the general public can enjoy the advantages of this technology, without any external device such as a smartphone or desktop computer. Once more, Facebook is entering the competitive fray already inhabited by other market players (HTC Vive, Playstation VR) and even its own partners (Samsung Gear VR).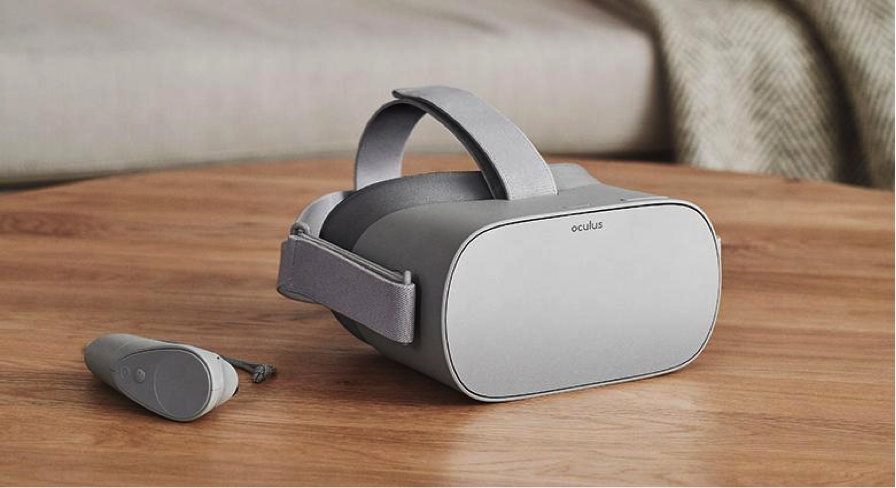 By cleverly combining its messaging service and AR, Facebook wants to create an interactive experience between consumers and brands. Brands can improve the buying experience by giving users a 3D product preview on their smartphones or computers. Facebook selected Sephora, ASUS, Kia, and Nike to provide the very first AR experiences over the Messenger platform. For example, makeup lovers can test out different looks with the Sephora chatbot. Try it, share it, buy it… The choice is yours!

Source: Messenger Developer Blog
To help brands create unique experiences, Facebook has also updated its AR Studio tool. Like video editing software, AR Studio allows users to easily create an AR or VR experience with its gallery of 2D and 3D content, and to add a soundtrack.
Of course, AR and VR will not be restricted to the Oculus or Messenger platforms, and the titan of Menlo Park could one day integrate AR and VR to Facebook and Instagram.
Facebook has shown us once again that it has its fingers in every pie. Despite the recent Cambridge Analytica scandal, the company is offering real innovation. However, we do have a few questions about the coherence of some features. For example, Facebook says it wants to be better at protecting privacy, yet is also offering a new dating service. Or, it wants users to engage with real life, but is also getting involved in augmented reality. How far will it go? We'll have to check back in at the 2019 F8!
To learn more about the event and watch conference videos, visit Facebook for Developers.
This article was originally published on Petit Web and translated from French by Niamh Cloughley.